PALAZZO BEZZI
AN ELEGANT TREASURE TROVE AMONG UNESCO MONUMENTS
We are located in the historical centre of the city of Ravenna, the home of art and culture. Our Hotel is close to the main UNESCO monuments, a stone's throw from the Palazzo di Teodorico and the Church of Sant'Apollinare Nuovo. Silence and tranquillity reign in the thirty-two rooms of Palazzo Bezzi 4* Superior.
Cleanliness and attention to detail are our pride and joy. Here you will find comfort, discretion and elegance. History and modernity blend together, creating pleasant and fascinating atmospheres that will make your stay unique.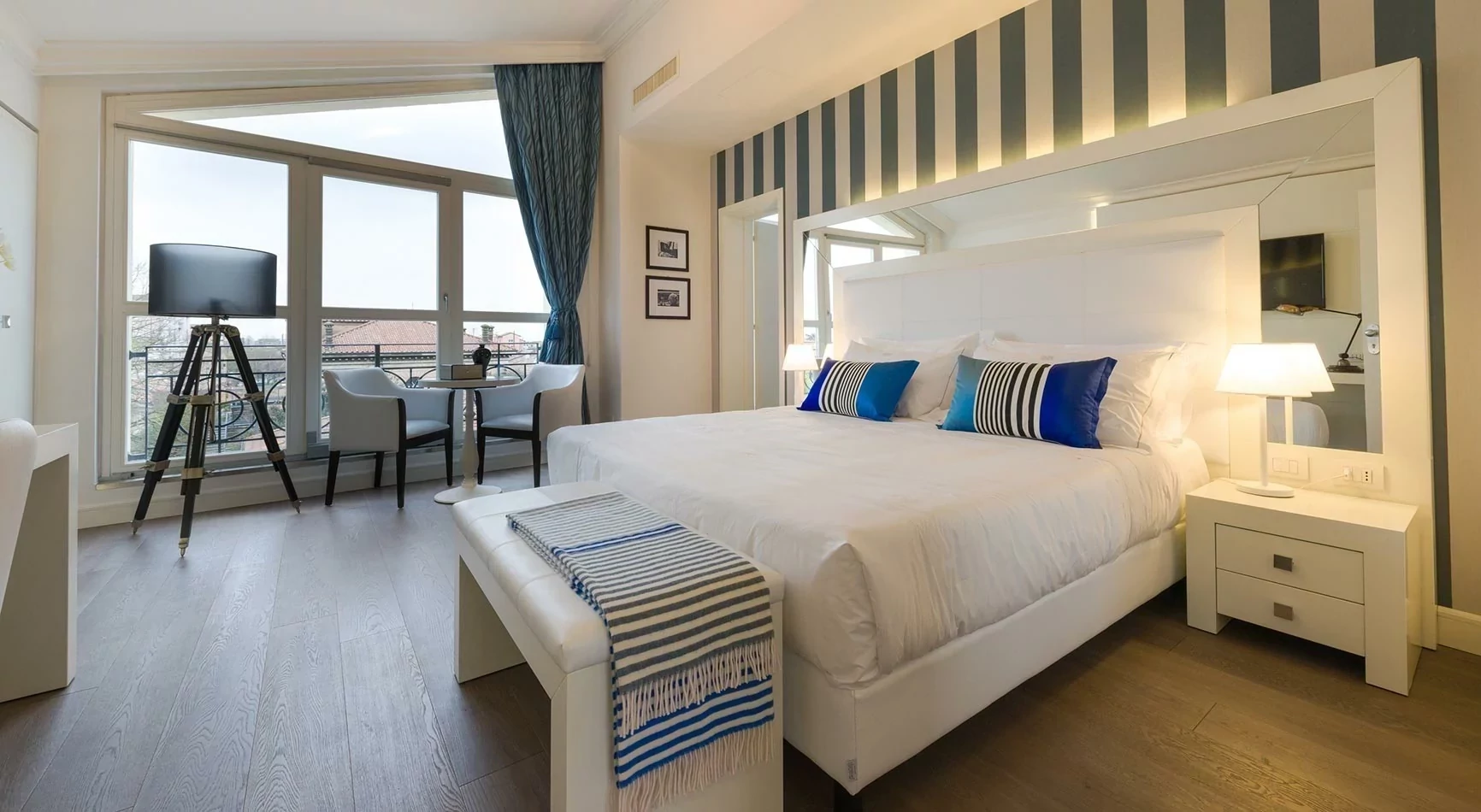 The utmost attention to the guest and the high-quality service are essential values for us because our mission is the customer's complete satisfaction.

This can be perceived from the outset: the staff is kind, always helpful anddistinctive for its warm welcome.
Palazzo Bezzi 4* Superior is situated in the heart of Ravenna in a strategic location.
The famous UNESCO monuments and Byzantine mosaics can be reached on foot. The train station is 500 metres away, while the sea, beach and the famous Mirabilandia fun park are 20 minutes away by car.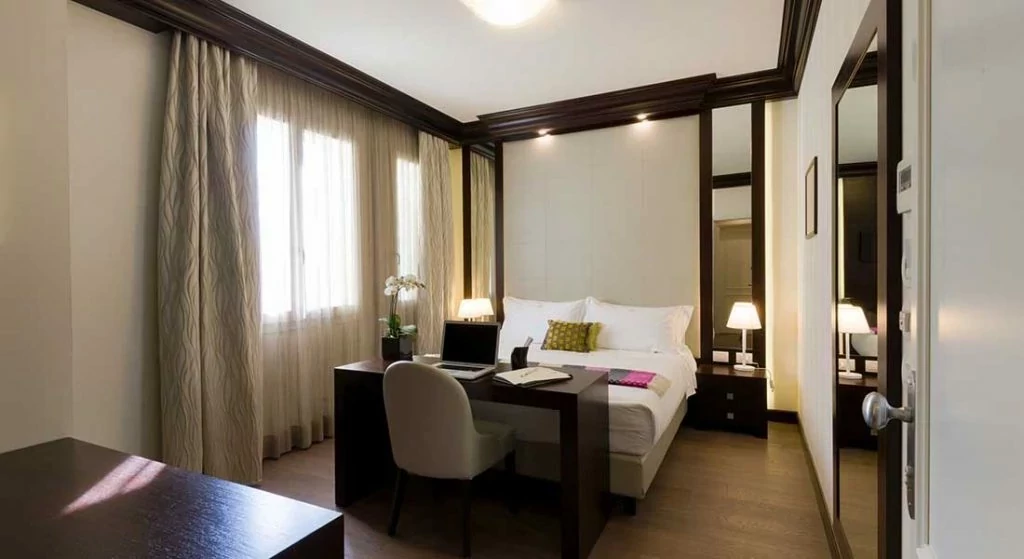 The rooms have recently been renovated, with large comfortable beds. We have decided not to use carpeting, opting instead for the more modern parquet flooring.
You will find a kettle in each room, with tea and herbal teas to enjoy a relaxing moment. All rooms are non-smoking, to fully respect people and the surroundings.
We offer rooms of various types and sizes, which are all spacious and equipped with a private bathroom, LED TV, mini-bar, safe, telephone, free Wi-Fi, hairdryer, vanity mirror, independent heating and air conditioning. In several bathrooms there is also a jacuzzi.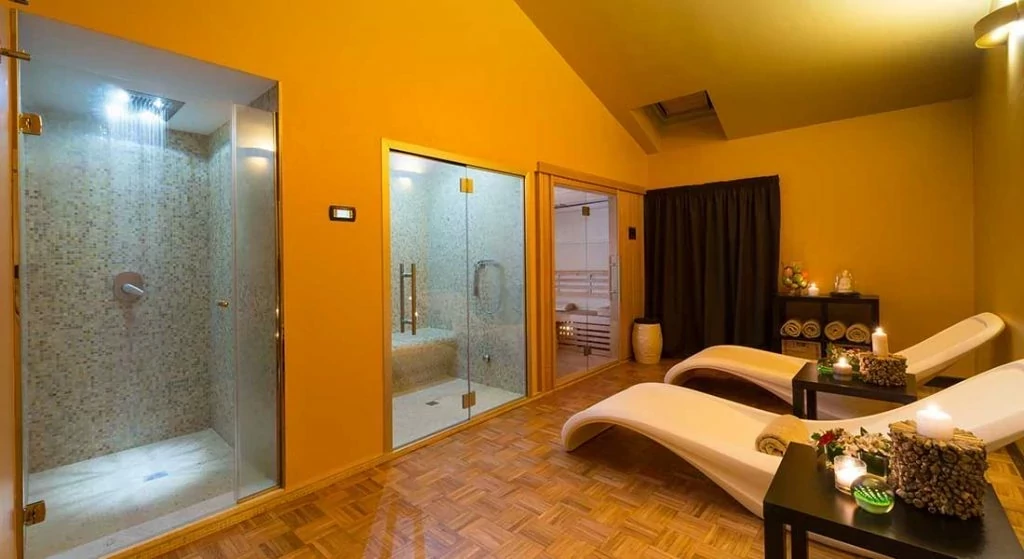 Here is an idea to perfectly round off your day. Treat yourself to authentic moments of relaxation in our Wellness Centre.
The Palazzo Bezzi Spa is a true gem in the heart of the city: it is equipped with a sauna, Turkish bath,sensoryshower, and relaxation room. You can also enjoy massages and personalised beauty treatments.
And if you cannot resist a dish of cappelletti or other delicacies of Romagna, you will havethe opportunity of getting back into shape by using our gym equipped with Technogym machines.
Breakfast is the most important meal of the dayand at Palazzo Bezzi we do our best so you can start the day full of delicious food. Our breakfast has a wide variety of genuine sweet and savoury products to satisfy most gourmands.
On entering the breakfast room, you will be welcomed by the smile of our staff and the smell of freshly baked products.
As ambassadors of the territory, we also have a corner with the typical flavours of our region including raw ham, squacquerone cheese, rocket, piadina and caramelised figs.
Products for any dietary requirement, including gluten-free and lactose-free products, are also available on request.
We have a 24-hour reception: if you prefer travelling at night or if your plane is delayed, do not worry: you will always find our kind smiling staff, ready to welcome you.
We will fulfil your every wish, from the most traditional to the most extravagant: rose petals on the bed and champagne in your room upon arrival, a guided tour around the city centre, tips on shopping in the boutiques of the historic centre, reservations in typical trattorias or gourmet restaurants by candlelight to taste the traditional dishes of Romagna.
Your every wish is an order.
Scopri tutte le nostre proposte per una vacanza davvero speciale in Romagna.
Offerte Speciali e  Pacchetti benessere, un motivo in più per scegliere Palazzo Bezzi, i suoi comfort e i suoi servizi esclusivi.